A strong commitment to the commercial real estate industry and environmental stewardship stand out among the many reasons that Jonathan Lachance was selected as a recipient of NAIOP's 2015 Developing Leaders Award. Lachance, general manager of real estate at Equium Group, has more than 12 years of commercial real estate experience within the residential, office, retail and industrial asset classes. Since 2011, he has managed close to $2 billion in assets for both institutional and high net worth investors within the Calgary market. Lachance holds a Master of Science in Sustainable Urban Development, St. Catherine's College, University of Oxford, with a thesis focused on the value of green rating systems for existing buildings within the built environment. A NAIOP member since 2011, he currently chairs NAIOP Calgary's Sustainability Committee. Lachance was recognized as Canada's Top 30 under 30 Leaders in Sustainability by Corporate Knights Magazine; he has certified over 2 million square feet of commercial office property under the LEED EB, BOMA BESt and BOMA 360 green rating programs. Read on to learn more about this impressive Developing Leader.
NAIOP: How did you become interested in working in the commercial real estate industry?
Lachance: The foundations of my career were built while working for my family's real estate portfolio in Montreal.
NAIOP: What are some of the most rewarding aspects of your job?
Lachance: The business of managing value-add commercial properties is rewarding given the ability to unlock value creation where others fail to recognize the potential.
NAIOP: What advice would you offer to other young professionals in commercial real estate?
Lachance: Never underestimate the power of positive thinking and perseverance. Those qualities, along with networking, are essential for success within the industry.
NAIOP: Who has been an inspiring or influential figure in your life?
Lachance: Several individuals have shaped my career through mentorship and professional development including my father, Nawaz Damji of Equium Group, Bruce Mackenzie of Mackenzie Consulting and Richard Moore of Northam Realty Advisors Ltd.
This is part of a series of profiles of NAIOP's 2015 Developing Leaders Award recipients, who have distinguished themselves through exceptional commitment and contributions to the industry. This prestigious award was presented at NAIOP's Commercial Real Estate Conference 2015 in Toronto. Read about all of the honorees in the Winter 2015/2016 issue of Development Magazine.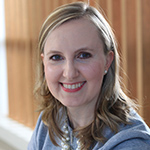 Marie Ruff is Communications Senior Manager at NAIOP.