Along with rising through the professional world – adding MBA and the certified financial planner designation to his name along the way – Erik Lembcke seems intent on inspiring in college students and other young professionals the same dedication to the commercial real estate industry that he feels. This recipient of NAIOP's 2015 Developing Leaders Award has been a NAIOP member since 2007, first with NAIOP Central Florida and then with NAIOP South Florida, where he now lives.
Lembcke serves on the board of directors of NAIOP South Florida and is also a member of NAIOP's Developing Leaders VII National Forum. He was previously the chair of the NAIOP South Florida Developing Leaders as well as chair of the NAIOP Central Florida Developing Leadesrs education committee. In 2008, he developed the NAIOP Central Florida Collegiate Challenge, known as the Real Bowl, and chaired that event for three years; he now chairs the NAIOP South Florida Collegiate Challenge. The challenge offers college students a taste of "real world" commercial real estate experience, with teams submitting and then presenting development strategies before a panel of industry judges.
At First Republic Bank, Lembcke raises new assets under management through lending, banking and private wealth management. He directs a portfolio of high net worth individuals and commercial clients as a relationship manager. Community involvement and recognition includes University of Central Florida College of Business Alumni "Rising Star Award" Recipient in 2009, board member of the Lois Pope Life Foundation, golf committee member of the Palm Beach Police Foundation, Big Brothers Big Sisters of Palm Beach and Martin Counties, and volunteer and Eagle Scout with the Boy Scouts of America. NAIOP caught up with this fast-moving dynamo to find out what ignited his fervor for the industry.
NAIOP: How did you become interested in working in the commercial real estate industry?
Lembcke: I've always been passionate about construction and design as well as finance and investing, so it's a natural fit for me.
NAIOP: What are some of the most rewarding aspects of your job?
Lembcke: Helping people fulfill their financial needs to live their dreams today.
NAIOP: What advice would you offer to other young professionals in commercial real estate?
Lembcke: Don't waste your time; it's the most valuable asset you'll ever own.
NAIOP: Who has been an inspiring or influential figure in your life?
Lembcke: My family and mentors.
This is part of a series of profiles of NAIOP's 2015 Developing Leaders Award recipients, who have distinguished themselves through exceptional commitment and contributions to the industry. This prestigious award was presented at NAIOP's Commercial Real Estate Conference 2015 in Toronto. Read about all of the honorees in the Winter 2015/2016 issue of Development Magazine.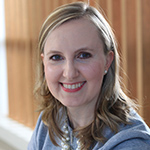 Marie Ruff is Communications Senior Manager at NAIOP.