It takes considerable ambition – and an exceptional work ethic – to start your own company, and James Love, a recipient of NAIOP's 2015 Developing Leaders Award, has that and more. Love established Distribution Realty Group LLC in 2013; the group is developing over 400,000 square feet of speculative industrial properties in Chicago in partnership with both institutional and private capital. Distribution Realty Group has been responsible for over $85 million worth of industrial development and acquisitions in its first two years, and Love is working to establish a second office in Nashville, Tennessee, for an expansion into the southeast region.
A member of NAIOP Chicago since 2008, Love currently serves on several national committees including NAIOP's Industry Trends Task Force, as co-chair of the Property Investment Perspectives National Forum, and as a planning committee member for NAIOP's I.CON '16: Trends and Forecasts. He was previously a member of the Developing Leaders III National Forum. Read on to learn more about what inspires the success of this compelling Developing Leader.
NAIOP: How has being a member of NAIOP helped your career?
Love: All of the normal ways: camaraderie, insightful discussion, etc. But more practically, I am doing business with several of my NAIOP peers – specifically from our Developing Leaders group. These are people I probably otherwise wouldn't have known, and I feel very grateful to have them in my life.
NAIOP: What are some of the most rewarding aspects of your job?
Love: Development is rewarding in a tangible way. Outside of building new buildings, as an industrial landlord I have a great view of the businesses that fire our American economic engine. America's industrial companies are doing and making some really cool things.
NAIOP: What advice would you offer to other young professionals in commercial real estate?
Love: Don't be afraid to go out on your own and create something. Our industry lost a generation to the Great Recession and we need smart people with new platforms to backfill that gap. Though we operate within an institutional investment world, there must be talented and capable operators putting the capital to work on the ground.
NAIOP: Who has been an inspiring or influential figure in your life?
Love: My grandfather hitchhiked to Nashville, Tennessee, with a 7th grade education and a dime in his pocket when he was a teenager. He went on to start and own his own businesses. He's not with us anymore, but he's a great source of inspiration for me still today. He once said, "When it's your business, you're the president and the janitor." It's true.
This is part of a series of profiles of NAIOP's 2015 Developing Leaders Award recipients, who have distinguished themselves through exceptional commitment and contributions to the industry. This prestigious award was presented at NAIOP's Commercial Real Estate Conference 2015 in Toronto. Read about all of the honorees in the Winter 2015/2016 issue of Development Magazine.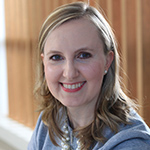 Marie Ruff is Communications Senior Manager at NAIOP.