Alliance is a brand name, not just the name of a city in Texas, it must be noted, but anyone who tours the 18,000-acre, 40 million-square-foot AllianceTexas development could understand the potential for confusion. As part of NAIOP's I.CON '16: Impact Projects conference, 40 attendees were treated to a special mobile case study of the extensive master-planned, mixed-use AllianceTexas. The knowledgeable guides: Tony Creme, Senior Vice President, Hillwood Properties, and Skip Kalb, Director, Strategic Development, BNSF Railway. The tour included a stop at GE Transportation's locomotive manufacturing plant, where attendees explored the modern marvels of this more than 100-year-old business.
Some takeaways from the mobile case study:
What's the history behind the name "AllianceTexas?" A public-private partnership between Hillwood Properties, the Federal Aviation Administration and the City of Fort Worth. Predictions of forthcoming congestion at existing air facilities prompted these three entities to join together to design and develop the Fort Worth Alliance Airport, the world's first industrial airport, which opened in 1989. In 1992, BNSF Railway Alliance Intermodal Facility was added; the combination of rail, air, highway and intermodal transportation options provides companies with flexibility for their distribution strategies.
It's commonly thought that people in Texas love to drive. What transit alternatives exist in Dallas besides cars?
Dallas Area Rapid Transit (DART), the Trinity Railway Express (TRE) and buses provide additional options for 200,000 passengers per day across a 700-square-mile service area. To expand passenger access to and from the bus and rail systems, Dallas – along with several other major U.S. cities – has developed partnerships with Uber and Lyft. "Dallas has integrated Uber and Lyft into its GoPass trip-planning app. When users are planning their commute, they can book a ride with either service directly," according to a Fast Company article. A recent study of seven U.S. cities by the American Public Transportation Association revealed that peak times of shared services like Uber and Lyft occurred during times when public transit was often slow or unavailable, such as late at night or on weekends. "Ridesourcing does not compete directly with public transportation, but rather, complements the entire mobility network," the report concluded.
What's attracting more than 425 companies to AllianceTexas, with more than 60 of which rank among the Fortune 500?
Texas' pro-business environment certainly helps, but the region in general is flourishing. "The Dallas-Fort Worth (DFW) market has really been on fire the last couple of years," Creme said. There is a tremendous amount of building and low vacancy – under 7 percent. Infill has been building up, leaving South Dallas and AllianceTexas as prime options for building.
In addition, the regional population is booming: 135,000 people are added each year to the DFW area; the total population is 7.1 million and counting. AllianceTexas employs north of 44,000 employees and matches job applicants and AllianceTexas companies through the Alliance Opportunity Center.
Also present within AllianceTexas: a fully functioning ranching operation. AllianceTexas has an active land and cattle management program to make optimal use of all available space at all times, with 800 head of cattle grazing land not currently in use or under development and other land leased to local farmers.
What companies have operations at AllianceTexas?
Companies span nearly every major company you can think of, including Nestle, Facebook, Amazon.com, Walmart.com, FedEx (Express, Ground and Freight), TD Ameritrade, General Mills, Lego … and the list of power players goes on (and on).
What impact has e-commerce had on project developments at AllianceTexas? Among other things, building clear heights continue to rise: 32-to-36-foot clear heights are considered common and some e-commerce companies are requesting even higher clear heights, up to 40 or 44 feet.
GE Locomotive by the numbers:
25: Miles of testing each locomotive undergoes before delivering to customer.
18,000: Approximate number of parts in a single locomotive.
30-40: Number of gallons it takes to paint a locomotive.
12,000: Number of parts delivered for final assembly daily.
83,000: Dollars saved in fuel costs every year compared to fleet average.
170: Number of Boeing 747 jetliners that one 12-cylinder Evolution Series Locomotive can pull.
72: Maximum mph of the Tier 3 Evolution Series Locomotive.
20: Average lifecycle of a locomotive.
15: Height, in feet, of a locomotive.
Source: GE.com and GE Transportation tour.
---
This post is brought to you by JLL, the Social Media and Conference Blog sponsor of NAIOP's I.CON '16: Impact Projects. Learn more about JLL at www.us.jll.com or www.jll.ca.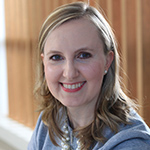 Marie Ruff is Communications Senior Manager at NAIOP.