"A leader is someone who demonstrates what's possible." – Mark Yarnell
In 10 years of working in commercial real estate, Christine Choi Moore has made a dramatic impact on the industry and in the Chicago community. She has been described by colleagues with a long list that spans the top characteristics of a born leader: knowledgeable, proactive, confident, enthusiastic, dedicated … and the list goes on. As leasing manager for John Hancock Real Estate, Moore is responsible for the leasing of a portfolio of 6.1 million square feet of office and industrial space in the Midwest region and has been recognized for her accomplishments as a rising star in the industry. She has been a member of NAIOP Chicago since 2010, serving on the membership, communications and programs committees and the chapter board. As the 2015 president of the Developing Leaders (DL) committee, Moore is credited with expanding the DL board and increasing their engagement with senior NAIOP Chicago board members.
In 2011, Moore launched IWIRE (Industrial Women in Real Estate), which seeks to foster collaboration and education through the development of a network of women in industrial real estate, and leads the organization as the president. Outside of commercial real estate, she serves as an auxiliary board member for the Sue Duncan Children's Center, an after-school program for inner-city kids. Since 2006, she has worked to enhance the center's volunteer efforts, assist in fundraising and event planning, and raise awareness for the program. NAIOP sat down with Moore to learn more about what motivates this dynamic leader.
NAIOP: How has being a member of NAIOP helped your career?
Moore: My membership and involvement in NAIOP has been valuable for my career as it has helped cultivate relationships with many people in our industry that I might not have had exposure to otherwise. NAIOP has enabled interactions with not only industry leaders with diverse backgrounds and skill sets, but also peers with similar tenure. The monthly NAIOP events are beneficial as they are educational while providing an outlet to meet/maintain friendships in our industry. Lastly, as president of the NAIOP DL Board [in 2015], I have had the opportunity to further develop my leadership skills.
NAIOP: What advice would you offer to other young professionals in commercial real estate?
Moore: Work hard and differentiate yourself amongst your colleagues and competitors. Strategically invest your time to make yourself a value-add in all aspects of what you do.
NAIOP: Who has been an inspiring or influential figure in your life?
Moore: I have had the great benefit of having several advocates, mentors, colleagues, family and friends who have all played active roles in influencing my career and shaping me professionally and personally. I am grateful for each and every one of these relationships and how they have uniquely inspired me.
NAIOP: What is your dream vacation destination?
Moore: Anywhere that provides the perfect combination of adventure and relaxation!
This is part of a series of profiles of NAIOP's 2015 Developing Leaders Award recipients, who have distinguished themselves through exceptional commitment and contributions to the industry. This prestigious award was presented at NAIOP's Commercial Real Estate Conference 2015 in Toronto. Read about all of the honorees in the Winter 2015/2016 issue of Development Magazine. Applications are now open for the 2016 Developing Leaders Award. NAIOP Developing Leaders are invited to apply online for the award. The deadline for applications is Friday, June 17.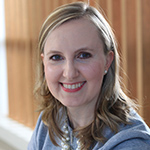 Marie Ruff is Communications Senior Manager at NAIOP.