Early tech adopters looking forward to sitting back while their cars navigate the daily office commute can celebrate that – while fully autonomous vehicles are likely several years down the road – automakers are actively implementing aspects of this technology. In fact, if your car has the cruise control feature, it's classified as a Level 1 self-driving car by the standards of the National Highway Traffic Safety Administration (NHTSA) and SAE (formerly the Society of Automotive Engineers).
Any vehicle with two controls that can be automated in unison can be classified as a Level 2 self-driving car, such as Tesla's self-driving autopilot system. The ultimate goal for many auto manufacturers is to send Level 5 vehicles out on the road, which can operate without any input from their human passengers. Beyond the technology needed to reach that point, other potential obstacles to adoption of this technology include government regulations, changes in infrastructure, ethical considerations and acceptance (and potential skepticism) of what currently seems like a fantastic, space-age technology.
Americans spend 75 billion hours a year driving, by Morgan Stanley's estimate – time that could be redirected to business, personal or consumer purposes instead. "Beyond the practical benefits, autonomous cars could contribute $1.3 trillion in annual savings to the US economy alone, with global savings estimated at over $5.6 trillion," according to Ravi Shanker, Morgan Stanley lead analyst covering the North American auto and related industries.
Widespread use of autonomous vehicles could cause seismic shifts from the insurance industry to trucking to how parking garages are built. Dale Dekker, principal/architect with Dekker/Perich/Sabatini, noted that autonomous vehicles and on-demand fleets could reduce parking by 70-90 percent in a panel discussion exploring "Self-driving Cars: A Game Changer for Commercial Real Estate?" at NAIOP's Commercial Real Estate Conference 2016. Without the need for human drivers, autonomous vehicles can let out their passengers and then park themselves tightly together – as close as six inches apart – optimizing the efficiency of parking structures. With that in mind, Dekker suggested that office developers consider planning ahead for parking garage design with the expectation that the space will be used differently in the future when the current patterns of parking usage no longer apply.
Autonomous trucks could enable the trucking industry to reduce labor costs and focus instead on inventory and occupancy costs and maximizing the efficient delivery of goods, according to a recent CBRE research report, "Automated Technology: Driving Change in Commercial Real Estate."
Among the potential impacts of autonomous trucks on industrial CRE noted in the report:
Fewer, larger warehouses built in remote locations.
The critical importance of last-mile delivery facilities, which may need to make the modal shift from diesel to electric; be able to receive large automated truck convoys; and be equipped with battery loading stations.
Warehouses designed for automatic maneuvering as trucks move in and out of the facilities.
What do you predict for the impact of autonomous vehicles on CRE? How do you think this technology will shape the future of office and industrial usage and design? Share your thoughts in the comment box below.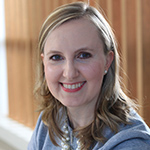 Marie Ruff is Communications Senior Manager at NAIOP.