"Cities don't shape well – they are slow-moving and very reactive," said Larry J. Kosmont, CRE, president and CEO of Kosmont Companies, to kick off a recent NAIOP Advantage Series webinar, "How Industrial E-commerce is Reshaping Cities." It can be challenging for cities to decide how best to serve their constituents while facing the seismic shifts taking place in technology and consumer behavior, he said.
Cities typically pursue quality of life for their constituents, including providing safety and community services (recreation, trash, utilities and more) but they can't fulfill those priorities without economic development, Kosmont said. As e-commerce has disrupted the traditional flow of retail>jobs>taxes, cities have modified their focus to placemaking and the industrial component of the "new retail" to generate jobs and taxes. Development project approvals are shifting; cities have to take a broad array of issues into consideration including sustainability and environment, changes in transportation and advances in technology.
Online retail continues at a healthy pace, according to Ben Conwell, senior managing director, practice leader eCommerce and electronic fulfillment for Cushman & Wakefield. Citing data from the U.S. Department of Commerce, he said that the e-commerce growth rate has been consistent from Q4 2008 to Q4 2017. Due to improvements in inventory control software E-commerce is even penetrating the retail market on the GAFO (general merchandise, apparel, furniture and other) category of items that people traditionally purchase in stores.
Retailers need buildings to store their inventories, driving industrial demand, Conwell said. Amazon continues to dominate the e-commerce sector with most of their square footage in fulfillment centers (114.7 million total square footage, opened and announced); by comparison, their next largest fulfillment facility type, sortation centers, reaches 15 million square feet. The company is clustered in the two biggest building types, big box e-commerce and tiered models.
Conwell called the persistent challenge of the last mile "the element of the supply chain that most makes or breaks customer loyalty." Delivery amounts to 53 percent of total last mile costs, Conwell said, making it an in-demand but costly factor in the last mile equation.
Walmart is an active and formidable competitor in the online space, Conwell said, as the retail giant seeks to build the most compelling complement to its physical store network. Walmart reported online revenues up 60 percent in Q2 2017; the company has 67 million SKUs online, up 30 percent from Q1 2017.
Kosmont cited a number of land use trends that cities are grappling with as consumers shift to the digital and sharing economy, including:
Needing a "place" or "purpose" to attract visits and generate taxes (such as food, events, medical, housing or education).
Demand for rapid delivery driving expansion of infill last mile delivery facilities.
Overall, cities aren't sure where to invest and aren't clear where sales tax will come from in an age where sales can take place anywhere and anytime.
Among the areas of retail posed for disruption: groceries. As new players enter U.S. grocery space, from AmazonFresh to the "German Invasion" of private-label stores like Aldi or Lidl to home meal preparation kits such as HelloFresh, Blue Apron or Plated, available grocery options have proliferated in recent years. End result: The customer wins! While online grocery currently makes up 5 percent of total grocery spending, the Food Marketing Institute projects that to grow to 20 percent by 2025.
What do all of the changes in retail mean for land use, and what types of projects will cities approve? Kosmont said that as developers pursue project approvals, they need to secure community support; cities, meanwhile, will support projects that improve quality of life and create jobs and taxes. Creating a strategy for last mile delivery as part of retail tax strategy is critical for cities, said Kosmont.
"The whole spectrum of land use is changing," Kosmont said. Unless communities change with these shifts in retail, they are in danger of losing jobs, and revenue growth with fewer jobs is not a good idea.
While there is a bright future ahead, Kosmont said, there are also big challenges for cities to address.
This webinar was presented January 16, 2018. NAIOP members can register to view the archived webinar. The Advantage Series is an exclusive member benefit, delivering expert insights into the latest research to help you make informed business decisions. Register for the upcoming Advantage Series webinar, "Piecing Together the Population Puzzle," on Feb. 20, 2-2:45 p.m. ET.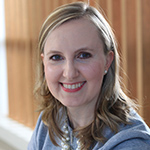 Marie Ruff is Communications Senior Manager at NAIOP.