Every click of an e-commerce order kicks off a series of actions that lead to the delivery of your package from a warehouse to your house – and the final stretch of that process is the most expensive part. "People expect to order anything, anytime, and have it delivered anywhere they want it. It's a challenge for our infrastructure," said Gregory Healy, Colliers International executive managing director, supply chain and logistics, during his keynote address at NAIOP's CRE.insights: The Last Mile conference this week.
To illustrate his point, Healy polled attendees on how long they are willing to wait for an e-commerce order, given the widespread use of Amazon Prime that has led consumers to expect deliveries in two days (or less). More than half – 61 percent – of attendees would wait three days; 20 percent expect their order to arrive the very next day.
"We're in the infancy of the changes in e-commerce retail," Healy said, which leads one to wonder what consumer expectations will be in 2019, 2020 and beyond.
Transportation comprises over 50 percent of supply chain costs, compared to just 4.3 percent devoted to rent, so choosing the right industrial facility or third-party logistics company is a critical decision for retailers. The efficiency of the last mile of the supply chain is hampered by crumbling U.S. infrastructure, which received a D+ on the American Society of Civil Engineers' 2017 national report card.
"Poor infrastructure is costing us money," Healy said, preventing e-tailers from reaching their customers customer efficiently. This amounts to $3.9 trillion loss in GDP due to infrastructure challenges – equivalent to the GDP of Germany.
China is investing heavily in infrastructure in sharp contrast with the U.S.; $8.5 billion of China's GDP is expected to be spent on infrastructure compared to the U.S.'s expected investment of $2.4 billion. Highlights of new Chinese infrastructure include a new Beijing airport (opening in 2019), the One Belt Road-Silk Road and the Shanghai Maglev high-speed train.
The anticipated payoff from China's investment has been borne out by research: Countries with efficient logistics systems experience a 1 percent increase in GDP growth and 2 percent increase in trade, Healy said. Better infrastructure means a more efficient path to get the country's products into the hands of consumers across the world.
Some regions in the U.S. are constrained by available land; traffic also factors into the equation in dense areas like New York City, hampering the ability of e-commerce retails to fulfill two- or four-hour delivery windows of their products. The NYC Cross Bronx Expressway is the most congested street in the U.S. with average speeds of 4 miles per hour. A state task force, "Fix NYC," has proposed a "congestion tax" for vehicles coming into the city, not the first time this proposal has been suggested in one form or another, but one that supporters hope would reduce traffic while generating money to renovate the city's subway system. If enacted, passenger vehicles would be charged more than $11 while trucks would pay more than $25. The tax has the potential to improve traffic flow to a breakneck speed of 6 mph.
The private sector is taking varied and creative approaches to work around infrastructure issues. Private rail, company buses, drone delivery, and cutting-edge transportation technology like the UberCHOPPER.
"We see the densification of buildings throughout all different markets," said Healy. E-commerce takes three times the space of traditional warehouses so three-story projects like Prologis' Georgetown Crossroads in Seattle and JLL's Bronx warehouse, 2505 Bruckner Boulevard, are changing the game for industrial real estate. These models may seem groundbreaking in the U.S. now, said Healy, but "it's just a matter of time before this is the new reality."
---
This post is brought to you by JLL, the social media and conference blog sponsor of NAIOP's CRE.Insights: The Last Mile 2018. Learn more about JLL at www.us.jll.com or www.jll.ca.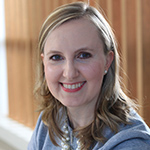 Marie Ruff is Communications Senior Manager at NAIOP.