"If we're just reading what the headlines are, we're driving while looking in the rearview mirror," said Chris Kelly, paraphrasing a quote by former President Bill Clinton. Kelly, co-founder and president of Convene, led a recent NAIOP Advantage Series webinar on addressing market demand for more flexible and amenitized workplaces.
What we need to watch instead of headlines, Kelly said, are trend lines showing what's coming up next.
The expectation for the workplace has changed, Kelly said. Commercial real estate has transitioned from focusing on what will appeal to the executive to what will appeal to the coveted talent; real estate thus evolves from serving as a commodity to an experience.
Kelly said he envisions the office building of the future as one that operates like a full-service hotel. This office would provide meeting and event spaces, common space and amenities, flexible workspace, with hospitality services provided throughout the building. So, for example, a tenant could call a centralized kitchen to have room service delivered to his or her office.
In the office of the future, fragmented assets could become connected campuses, landlords could become brands, and tenants could become members. Convene works with Brookfield in downtown L.A., which owns a nine-building campus in a hub-spoke structure. Every employee who works in any of these buildings has access to all of the shared amenities within the campus.
There is a range of price and experience, however, Kelly said. "It's very hard to serve the expectations for the most price-sensitive customer in the market in the same place and under the same price as an enterprise that cares more about security and compliance, where price is secondary," he said.
Still, by 2030, we can anticipate that every office building will be a "smart" building – and by 2035, every office building will be an "empathetic" building. The empathetic building is one where technology has enabled the building to recognize individuals for who they are instead of treating them like a generic audience. A building might recognize, for example, that a certain employee always goes to the same floor every morning and automatically take him there, or begin to make his usual order at the building's coffee shop as soon as it registers that he has entered the building each morning.
To get ahead in the evolving world of commercial real estate, Kelly said, it pays to bet on change, embrace the future, and keep tabs on trend lines, not headlines.
The Advantage Series is an exclusive member benefit, delivering expert insights into the latest research to help you make informed business decisions. This webinar was presented on March 20, 2018, and was sponsored by USAA Real Estate. NAIOP members can view the full archived webinar and presentation online.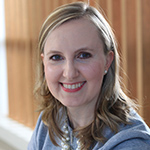 Marie Ruff is Communications Senior Manager at NAIOP.