Hey, where's your phone? With mobile usage growing rapidly, we're becoming more and more addicted to that omnipresent mobile device. According to Pew Research Center, as of January 2014, "90% of American adults have a cell phone," and 67% check "their phone for messages, alerts, or calls – even when they don't notice their phone ringing or vibrating."
So how can we use it to make the best of our work day? In today's Three for Thursday, we take a look at mobile apps that will make you more productive at work.
Hours, an iPhone app launched in 2014, offers an "amazingly simple way to jump into time tracking." Some people use it to track billable hours, but you can also use it as a time management tool. You can export reports from within the app in PDF or CSV and see a summary of your time. 

For corporate users, according to this review from 9to5mac.com, Hours "gives you the world's easiest way of tracking your time … so you won't have to estimate it at the end of the month." On an Android device? Check out this article from lifehacker detailing the "best time tracking application for Android."
Visiting client sites requires access to the best GPS services available to you. You may already be familiar with TomTom, but take a look at the new version recently launched on Google Play. TomTom's GoMobile app for Android offers "3D graphics of landmarks for easier navigating while driving, alerts for safety cameras (pesky law enforcement prevention), and the ability to plan routes with zero data connection."Others swear by the community-based app, Waze. It lets "users scan real-time traffic information provided by other Waze users who are driving on the same roads." It might also save you some gas money. Waze drivers can report gas prices so you can navigate to the cheapest gas station.
All those business cards collecting on your desk? It's time to organize. A hugely popular app, Evernote, will help you collect and manage your notes and documents. And, if you purchase the premium feature, you can scan your business cards using Evernote's Business Card camera. With its recent partnership with LinkedIn, the service will now "pull in additional information from LinkedIn's 300 million members."  The business card service also allows you to add notes to the contact and set reminders to follow up.
If you believe the statistic, the average cell phone user checks their phone 150 times a day. Make the phone work for you with these apps. Have a suggestion? Let us know in the comments.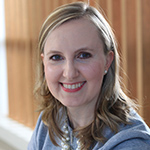 Marie Ruff is Communications Senior Manager at NAIOP.