From his professional success to community involvement, there's no doubt that Ryan Hoyt, a recipient of NAIOP's 2015 Developing Leaders Award, is engaged, driven and passionate about making an impact. He joined NAIOP in 2008 and currently serves as the director for the NAIOP Georgia Developing Leaders group. As senior leasing manager for Prologis, Inc., he is the single point of contact for all issues involved when a company is leasing new space, renewing or expanding their property. He works closely with property managers, business owners, asset managers, brokers and attorneys in the leasing and marketing of Prologis' Atlanta portfolio. Hoyt is a recent recipient of NAIOP Georgia's Top Producer Award and Atlanta Commercial Board of Realtors' Top Ten Producer. He is actively involved in several community organizations including as a board member for the Gwinnett Village Community Improvement District and Advisory Board member of the Shepherd Center. Read on to learn more about this dynamic Developing Leader's path to the top.
NAIOP: How has being a member of NAIOP helped your career?
Hoyt: Being a member of NAIOP has given me the opportunity to build relationships with new industry professionals as well as maintain existing relationships. I have also had the opportunity to network with professionals who don't necessarily focus on what I do on a daily basis.
My involvement with NAIOP Georgia's NAIOP Future Leaders (NFL) has truly been invaluable. NFL has helped me learn more about the organization, its charitable causes and offers monthly opportunities to meet the leaders in our industry. NAIOP is undoubtedly an essential key to my success as a CRE professional.
NAIOP: What are some of the most rewarding aspects of your job?
Hoyt: I like winning deals and seeing how they fit into our business plan as well as the long-term strategic goals. What I do is critical to our success and I enjoy being on the front line.
NAIOP: Who has been an inspiring or influential figure in your life?
Hoyt: My father, who has run his business for over 40 years; I grew up working in his clothing store. He truly found his passion.
NAIOP: What advice would you offer to other young professionals in commercial real estate?
Hoyt: Know your market and your competition better than anyone else.
This is part of a series of profiles of NAIOP's 2015 Developing Leaders Award recipients, who have distinguished themselves through exceptional commitment and contributions to the industry. This prestigious award was presented at NAIOP's Commercial Real Estate Conference 2015 in Toronto. Read about all of the honorees in the Winter 2015/2016 issue of Development Magazine.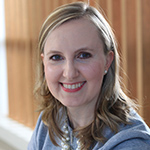 Marie Ruff is Communications Senior Manager at NAIOP.