You get out of the commercial real estate industry what you invest in it, says Jason England, and his professional accolades and accomplishments reveal the benefits of going all-in. Since joining NAIOP in 2007, this recipient of NAIOP's 2015 Developing Leaders Award has served in many roles on the board of NAIOP Utah: Developing Leaders chair, membership chair, board secretary, and president-elect. He currently serves as the chapter president. In his role as leasing and marketing manager, England manages all leasing and marketing activities for Argent Development Group at RiverPark and Lake Pointe, a 2 million-square-foot office and retail development portfolio. NAIOP sat down with this standout Developing Leader to find out what fuels his success.
NAIOP: How has being a member of NAIOP helped your career?
England: NAIOP has opened doors to connections and opportunities that would never have come otherwise. It has helped grow my professional career in ways I absolutely did not anticipate. I identify joining, and actively participating in, NAIOP as a major key to where I am today.
NAIOP: What are some of the most rewarding aspects of your job?
England: With responsibility for over 2 million square feet of office product, I get the chance to interact with many growing companies. It's exciting to be a part of their growth, and to help them reach their goals by providing compelling and dynamic spaces to house their businesses.
NAIOP: What advice would you offer to other young professionals in commercial real estate?
England: Become active in your development community. If a local NAIOP chapter exists, join it! You get out of this business what you put into it. Enjoy what you do; success is as much about your attitude as it is anything else.
NAIOP: Who has been an inspiring or influential figure in your life?
England: I've always admired the work ethic of my father. Seeing him go above and beyond in everything he does has inspired me to do the same in all my endeavors.
This is part of a series of profiles of NAIOP's 2015 Developing Leaders Award recipients, who have distinguished themselves through exceptional commitment and contributions to the industry. This prestigious award was presented at NAIOP's Commercial Real Estate Conference 2015 in Toronto. Read about all of the honorees in the Winter 2015/2016 issue of Development Magazine.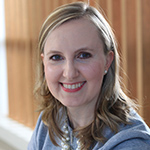 Marie Ruff is Communications Senior Manager at NAIOP.