The COVID-19 pandemic brought dramatic changes to the way people worked and lived. Many Americans have increased their online shopping since life and business as usual shut down last spring. Increasing volume of consumer purchases during the pandemic strained a supply chain that was already bustling with the exponential growth of e-commerce.
The Port of Long Beach – the second-largest port in the U.S., second only to the adjacent Port of Los Angeles – has worked to keep traffic flowing through this major hub of commerce. Attendees at NAIOP's I.CON West: The Industrial Conference this week in Long Beach, California, were able to tour the port and learn the literal ins and outs of port operations.
The port moves $200 billion worth of goods across their docks each year, according to Joel Perler, marketing manager – economic development, with the Port of Long Beach, making it a critical player in the nation's supply chain. The port moved 8.1 million TEUs (Twenty-Foot Equivalent Units, or a 20-foot-long cargo container) in 2020. Seventy percent of the total volume is imports, with exports making up the remaining 30 percent. Container ships make up three quarters of the volume at the port.
More than 18 months after the pandemic began, container ship backups persist, delaying the shipment of furniture, lumber, household goods and more. There have been delays at Chinese ports, poor weather conditions and labor shortages. It can take 7-10 days on average for ships to get a "parking spot" at the port. It can then take 3-5 days on average to load and unload an average 6,000-8,000 TEU container ship. According to American Shipper, the number of container ships at the Ports of Long Beach and Los Angeles is now nearly five times pre-COVID levels.
To help streamline operations, the Port of Long Beach is spending $2 billion on infrastructure after having already spent more than $4 billion on port infrastructure over the last 10 years. Improvements include building a bridge that accommodates both taller ships and a higher volume of traffic, as well as on-dock rail.
The port's Long Beach Container Terminal has leveraged automation to streamline operations. Only truck drivers and crane operators work on the terminal, while technology like driverless flatbed trucks move product. Efficiency is critical: This terminal has a 3.3 million TEUs capacity each year; if it were a stand-alone port, it would be the sixth largest in the country.
The Port of Long Beach competes with its neighboring Port of Los Angeles for new traffic but also collaborates on infrastructure, security, environmental stewardship and more. The Port of Long Beach is committed to a green future with sustainability and environmental stewardship initiatives. Along with the rest of California, the port has a goal of becoming zero emission by 2045.
Setting it apart from other ports, the Port of Long Beach also moves "imports and exports from space," as Perler said. This spring, SpaceX made an agreement with the port to lease a maritime terminal for rocket recovery operations. Elon Musk's company took over a wharf that had been previously used for other aerospace purposes including satellite launches by Sea Launch.
From container ship backups to sustainability initiatives to rocket recovery work, the Port of Long Beach demonstrates its commitment to innovation and problem-solving on a grand scale.
---
This post is brought to you by JLL, the social media and conference blog sponsor of NAIOP's I.CON West 2021. Learn more about JLL at www.us.jll.com or www.jll.ca.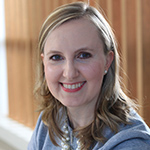 Marie Ruff is Communications Senior Manager at NAIOP.