A 1.5 million-square-foot cold storage facility an hour south of Atlanta sits unassumingly among farmlands and other distribution warehouse facilities containing everything from mattresses to salad dressing to office supplies. Inside its doors though, racks and rows of premium chocolates are stacked high in an international chocolate producer's distribution facility for the Southwest.
Built by Alston Construction and operated by Geodis, the facility began as a pilot project and was leased early on by the chocolate company, which gave the company the ability to do some customization during development. Completed in 2018, the tilt panel building is insulated with 4" insulated metal panels, along with insulated overhead doors with food grade seals. It has a 60-mil thermoplastic polyolefin (TPO) roof membrane over LTTR-28 (long-term thermal resistance) insulation, with all gaps filled with closed cell spray foam.
Of the total facility, 750,000 square feet is cooled to 55 degrees, and another 150,000 square feet is lowered to a chilly 42 degrees in what's called the "5C room," which houses one of the other brands of the chocolate producer that is required to be stored at lower temperatures.
An additional 250,000 square feet of adjacent space was constructed and prepped to accommodate further expansion, and 550,000 square feet remain as a cold dark shell for future tenants.
With ceiling heights of 42' clear, individual racks can hold up to 30,000 pounds each. Pallets range from 400-1,600 pounds, with caramel-filled chocolates weighing in at the heaviest. Much of the facility's inventory is seasonal chocolates, which means its busy season is ticking up as retailers prepare for winter holiday sales, followed by Valentine's Day and Easter. Beyond chocolates, racks subleased to another global food manufacturer and distributor hold canned pumpkin and baking products, coffee beans and K-cups, infant food and pet food.
The facility's cooling system is controlled by a direct digital control (DDC) system operated out of what is labeled the "penguin room." A chilled water loop containing 20% glycol runs the length and width of the building. Air rotation units, both with and without chilled water are featured, as well as thermal equalizer units that eliminate stratification, and roof-mounted air units. The building has three separate electrical services totaling 7,000 amps, including two 1,000-1,500 kilowatt generators for backup.
A team of 100 warehouse workers and administrative personnel operate the facility. Flags and fact sheets about employees' home countries adorn the corridor, and the facility is buzzing with workers on foot and on forklifts.
The next time you bite into a premium chocolate, it's likely that it traveled through this facility or another one like it, helping move specialty food that require cold temperatures to stay fresh and retail ready.
---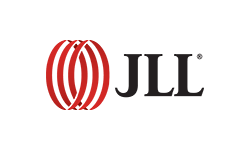 This post is brought to you by JLL, the social media and conference blog sponsor of NAIOP's I.CON Cold Storage 2023. Learn more about JLL at www.us.jll.com or www.jll.ca.