Industrial real estate might have been one of the strongest-performing property types out there in recent years, but it is far from immune to change. During the panel "Industrial Real Estate and the North American Supply Chain Revolution," held at NAIOP's CRE.Converge conference in Seattle this week, Chad Griffiths, MBA, SIOR, partner and associate broker at NAI Commercial Real Estate, spoke with Matt Carroll, senior associate at Avison Young, about what's in store for industrial properties in the coming years.
The background to modern-day industrial real estate is an ongoing dialogue about globalization versus deglobalization as the pandemic fades into the rearview mirror, Carroll said. There are proponents of manufacturing overseas and supporters of manufacturing in North America, as well as a paradigm shift from optimality toward optionality. "Optimality was … 'I want to be as efficient and low in cost as possible,'" he said. "And as we come out of the pandemic era, what you hear a lot of people talking about is having optionality…'If I can't move all of my manufacturing back to the U.S., I want to least have the option to mitigate my risk by having the presence of manufacturing on this side of the hemisphere.'"
Another transformative force the panelists discussed was a recent rail merger, the acquisition of Kansas City Southern by Canadian Pacific. The merger will result in the first trans-American rail line linking Mexico, the U.S., and Canada, which Carroll described as like a tree with roots in Mexico. Griffiths said developers should consider opportunities for intermodal yards, airports and other industrial properties along the "trunk" of that tree.
"It's a $30 billion merger. So that wasn't small change, and I have to think that they did that because they want to capitalize on Mexico becoming a manufacturing powerhouse," he said.
The panelists discussed other major transformations they expect in the near future, as well. Both agreed that buildings will face a growing need for electric vehicle (EV)-charging infrastructure, and many will struggle to deliver since most warehouses aren't built with high power demand in mind. "It can actually render some functional obsolescence if these buildings aren't able to accommodate future use," Griffiths said. Properties may be able to supplement their power access with on-site solar generation, but some won't be physically strong enough to support the weight of rooftop solar. An action item for developers now: install sufficient conduit for greater long-term power needs ahead of time, so that capacity is there when it is needed.
During the Q&A session, one audience member mentioned that his company is putting in three times as much power in its properties compared to five years ago.
Beyond just the power component, industrial properties will also need to grapple with where to place EV-charging infrastructure on-site. Where can trucks linger on-site for an hour while charging, without disrupting loading and unloading? "We're talking about EV-charging courts," said Mason. "So, you don't want to necessarily have your trucks just sitting there…instead they're going to come bring the trailer in, and then you're going to have them go to a separate place for charging."
Outside of EVs, another growing power draw to expect is automation. The panelists said drone delivery is getting closer to reality, alongside collaborative robots that support workers in the warehouse.
One possible black swan event that could negatively impact the property type: Automation technology is making 60 to 80-foot warehouse racks possible. While emphasizing high cubic feet with a smaller footprint could help developers provide more efficient logistics space, this could be very disruptive to the market.
Griffiths said this might leave the current stock of 36- to 40-foot warehouse buildings in a tough position. "I think that that could render those buildings, just from a competitive standpoint, less valuable, because now a company has to pay on that square footage," he said. Carroll added that this might be geographically based, with markets where land is cheap continuing to emphasize lower, larger buildings. "So, my quick thought would be I think it's going to be geographical. If you go to a place like Indiana where there's a lot of land to develop, I think the warehouses will remain similar in size as they are now, in terms of ceiling height," he said.
Industrial real estate has been on fire for a long time, and markets are now starting to see vacancy rates tick up. Meanwhile, consumer preferences changing to favor experiences could result in moderation of demand. As long as people are buying goods, though, there will be a need for warehouses, tall or short, close to our homes.
---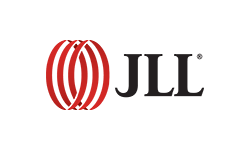 This post is brought to you by JLL, the social media and conference blog sponsor of NAIOP's CRE.Converge 2023. Learn more about JLL at www.us.jll.com or www.jll.ca.