Leading experts in the field addressed how technology and innovation are enabling an evolution of warehouse and distribution real estate in a session at I.CON East this week in Jersey City, New Jersey moderated by Kate Bryden, LEED AP BD+C, senior vice president development, MRP Industrial LLC. Here are key takeaways from the panelists:
Get the right people and tools in place to manage data.
"There is a revolution in what is happening with data," said Faropoint CEO Adir Levitas, one that has already happened in some other sectors and is taking time to get to commercial real estate. It can take time to determine what is useful and what is not. "The opportunity is endless in real estate as a whole."
Along with everyone else on a traditional commercial real estate team, you need a data scientist these days, he said. "We have 10 data scientists on payroll," Levitas said. "This is the world we're going into."
In-demand technology can help manage deals; maximize efficiency and optimization; or generate data-driven reports.
Users are looking for ways to manage their portfolios, said Michael Landsburg, chief development officer, NFI Real Estate. Some of the technology has been around for a long time, he said, yet there has been a shift in its acceptance, thus more likely to be implemented.
Comparing utilization of flexible technology to the traditional way of counting inventory, Landsburg said, "It used to be people walking around and it would shut down the warehouse for two days. Now they can have robots doing that work." Robotics are not replacing labor but making processes more efficient, he said, freeing up people for other tasks.
Deal-management-side activity typically targets office and multifamily, said Sarah Liu, vice president, real estate technology investment team, Fifth Wall. Data platforms can track foot traffic and other data that is especially relevant in an urban space, then mine through mounds of data to generate environmental impact studies and other necessary reports.
Ryan Elazari, senior director, Empire Management, said that using augmented reality can help with efficiency and can be useful in creating optimal warehouse models.
Make way for autonomous vehicles – including remotely driven forklifts.
Landsburg said they are considering advertising for forklift drivers who can work remotely; technology provides the win-win of flexibility for people who want to work from home while filing jobs that need to be done.
Research and development are underway in many companies looking to get into the autonomous vehicle market; however, most autonomous vehicle usage is still level 4 with a geofence capacity, not yet fully autonomous level 5, said Liu.
The relationship between landlords and users is a partnership, and at this moment of time there are more opportunities to work together and invest in technology together, said Landsburg.
Noted tech tools, data analysis and platforms:
---
This post is brought to you by JLL, the social media and conference blog sponsor of NAIOP's I.CON East 2021. Learn more about JLL at www.us.jll.com or www.jll.ca.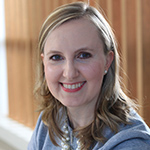 Marie Ruff is Communications Senior Manager at NAIOP.