With ChatGPT suddenly mainstream, artificial intelligence has become a hot topic with the ability to disrupt any and every industry it touches. The commercial real estate industry is not excluded from this disruption, but the implementation of AI in the space leaves a lot yet to be discovered.
At NAIOP's CRE.Converge conference this week, industry professionals discussed how AI is evolving and how it can change the commercial real estate industry. Ajey Kaushal, senior investment associate, JLL Spark Global Ventures led a conversation with Todd Huebsch, vice president, Yardi Systems Inc., David Knight, chief architect, Dealpath, and Olivier Maene, global product director, Avison Young.
To begin, each panelist provided an overview of how their respective companies deploy AI. Huebech presented different AI solutions from Yardi, the largest software developer specializing in real estate, that it has already rolled out in 2023: chatbots, work orders, smart key and an assistant. Knight said Dealpath is questioning how much agency we give AI, and that the software company still believes in human decision-making for key decisions.
Avison Young narrowed in on healthcare location strategy to begin its foray into AI. Using Avison Young's AI technology, Maene mapped out the ideal place to put a pediatric mental and behavioral health center in Seattle and compared it to traditional, human-led methods. The AI model had more precise locations selected that took into account neighboring healthcare services while the human model showed mainly high-density areas. This example of human output versus AI output illustrates the limitations and strengths of the two, especially when paired together.
All the panelists underscored that these use cases of AI were not to detract from human work but rather to streamline workflow, reducing time spent on research and answering frequent questions to allow people to explore more complex questions.
The shift into fully adopting AI in the commercial real estate sector will not happen overnight, the panelists agreed. Kaushal referred to a survey gathered from the audience predicting what percentage of the workforce AI will replace in the next five years. Most believe less than 40% of their work will be streamlined by AI, driving home that AI is an assistant more than a replacement. Huebsch recalled a case of a client in which AI has been useful to its marketing team but noted that a human still reviews the final product.
"When you're designing software for clients, you really have to understand how comfortable they are to use these methods to make these decisions," Maene said. "These are really expensive decisions." People will take to AI on their own time, and Maene suggested that both traditional methods and AI methods should be offered to the client.
Navigating the ethical implications of AI was another concern for our panelists. "Different talent needs to be hired within the company to understand not only the technical side but the industries that we're entering into with CRE," Maene said. Knight added that the bias of these data sets themselves also needs to be considered.
As we utilize more of these AI tools, our need to store its data also increases. Kaushal suggested that vacant real estate could become home to new data centers cropping up in the next five years. Northern Virginia has already become a home to many data centers, Maene said. He compared this trend in AI and data to the uptick in e-commerce, which transformed retail from malls and storefronts to distribution centers.
The AI landscape is changing minute by minute. Our panelists said they keep up by taking online courses, such as those through MIT and Coursera, or even watching YouTube videos and having an AI channel on Slack or teams to create a company-wide feed. Social media feeds like LinkedIn and X, formerly Twitter, are also useful, Knight said, if your feed is focused on these AI topics.
"With more technology, there's more isolation," Maene said. He offered that we can know the latest innovations by just talking to those around us. Maene also tracks the trends in the various vendor emails he receives, and Kaushal subscribes to a daily digest newsletter, The Neuron, to learn about updates in AI.
To close the session, Kaushal asked the panelists how they implement AI into their personal daily workflow. He joked that he even used JLL's GPT to generate questions for today's session.
Huebsch said he hasn't taken the leap yet but wants to send an AI assistant to his digital meetings. AI transcriptions still aren't perfect, so an audience member suggested both Huebsch and the AI assistant attend and then compare the results for accuracy.
AI can also be great to garner creative inspiration and gather ideas in the early stages or lulls during a project. Using AI for ideating and drafting "drives home that it's just part of the process," Maene said, noting he always revises its feedback.
"It's cheap to ask GPT," Knight added, reminding the audience that you don't have to just accept AI's answers as the final say.
---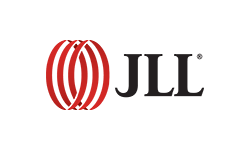 This post is brought to you by JLL, the social media and conference blog sponsor of NAIOP's CRE.Converge 2023. Learn more about JLL at www.us.jll.com or www.jll.ca.