As senior vice president and senior director of research for JLL, Lauren Gilchrist, a recipient of NAIOP's 2020 Developing Leaders Award, is sought after for her opinions by not only members of her own company but also leaders of other large companies and members of city government.
Gilchrist moved from the public sector to the private sector several years ago to better understand how the private sector creates and influences the built environment. She brought a unique perspective as a woman in a male-dominated brokerage firm and quickly became known for her expertise more widely in the Greater Philadelphia area.
In her role as senior vice president and senior director of research for JLL, Gilchrist is responsible for the strategic direction of JLL Philadelphia's research platform, including economic data, demographic data, market overviews, and broker and client ad hoc requests; leading leasing and capital markets business development efforts; leading JLL Philadelphia's media relations strategy; managing a team of analysts; and creating new revenue opportunities through the development and execution of consulting assignments. She holds a Master of Science degree in public policy and management from Carnegie Mellon University.
She quickly rose within the ranks of NAIOP Greater Philadelphia leadership, serving as the chapter president in 2019-2020 and as a member of the chapter board of directors starting in 2016. She is also active on the board of directors for the Philadelphia Orchestra, the Old City Community Fund, and as a member of the advisory board for Temple University Professional Science Master's degree in Geographic Information Systems (GIS). She is an alum of LEADERSHIP Philadelphia's Connectors & Keepers Program and the Coro Fellows Program in Public Affairs.
Gilchrist has been honored with multiple awards, including the Women of Influence in Commercial Real Estate from Bisnow Philadelphia in 2017 and 2020; as a 40 Under 40 Honoree from the Philadelphia Business Journal in 2016; and with the Overall Contribution Award from JLL Philadelphia in 2015.
NAIOP asked this influential luminary about the trends she's watching and what's ahead.
NAIOP: What is the most interesting trend you have seen in commercial real estate in 2020?
Gilchrist: Proving out the thesis that work from home is technically possible has really raised big questions for the office market across the U.S. However, even more interesting is what people feel is lost professionally and personally by living, working and playing within the confines of the four walls of home. Work from home is here to stay in some fashion, but more importantly, so is flexibility. I think flexibility in all senses of the word will be the biggest trend and change in the industry moving through 2021 and beyond.
NAIOP: What is your favorite part of your job and why?
Gilchrist: My favorite part of my job is working with our investor clients to help them better understand Philadelphia's commercial real estate market dynamics, especially if they have never invested in Philadelphia before. It's a tricky market to wrap your hands around, but there is a lot of potential here thanks to the college students that now stay here after graduation, our population growth, our walkable downtown, and the upgrades that have been made to the public environment over the last 10 years. I also really enjoy collaborating with our brokers to pitch and win business. There is nothing more professionally fun than being part of a winning team.
NAIOP: What is one piece of practical advice you would give to Developing Leaders who are just starting out in their careers?
Gilchrist: Find the thing that professionally interests you more than anything and pursue that thing to its fullest. Become the foremost expert in something. This pursuit will lead you to discover and strengthen your superpower. Our industry and the business community need people that are passionately curious about what they do.
NAIOP: What do you like to do outside of work?
Gilchrist: Although the pandemic has put a bit of a damper on these activities, I'm an avid yogi and love to go to spin class. I'm adapting with online content, but nothing beats the real deal. I love to travel and explore new places through food. My favorite evenings are spent with my incredible friends and a good bottle of wine.
NAIOP: What's the next big project you have coming up?
Gilchrist: I've been spending a lot of time with our JLL Flex team on their expansion activities. It's challenging and fascinating because they are on the bleeding edge of transformation in our industry, both because of COVID and because the way occupiers use office space was already changing. I've really enjoyed spending time with new colleagues from around the world and learning about new aspects of our business.
NAIOP: What's your favorite vacation destination?
Gilchrist: I spent two weeks traveling around northern India in 2019 — definitely the most fascinating and culturally deep place I've ever been, but not exactly a vacation! I've loved the south of Spain; Hawaii; Victoria, British Columbia; and the Caribbean for vacation.
This is part of a series of profiles of NAIOP's 2020 Developing Leaders Award recipients, who have distinguished themselves through exceptional commitment and contributions to the industry. This prestigious award was presented at NAIOP's CRE.Converge Virtual 2020 conference. Watch this two-minute video to learn more about NAIOP's Developing Leaders program. Applications for the 2021 Developing Leaders Award are now open.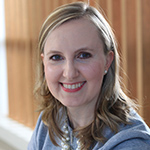 Marie Ruff is Communications Senior Manager at NAIOP.