Formerly a military officer in the U.S. Navy, Peter Shearer, a recipient of NAIOP's 2020 Developing Leaders Award, followed an uncommon path to becoming a commercial real estate professional. Among his many volunteer efforts, he now works to help other men and women transitioning from the military to new careers. Shearer is known for his inspiring leadership, generous spirit and impressive accomplishments in a relatively short time in the industry.
Shearer works as a director for Hines, where he leads the $3 billion Riverwalk San Diego development project. Prior to Hines, he worked as a senior manager, development and acquisitions, office, for the Irvine Company in Newport Beach, California. He received an MBA from the University of California, Berkeley, Haas School of Business, and a Master of Professional Studies in Real Estate degree from Georgetown University. Before transitioning to a career in commercial real estate, Shearer served as a military officer, earning a Navy Commendation Medal and a Navy Achievement Medal for his accomplishments in the U.S. Nuclear Navy's Propulsion Program.
He is an active member of NAIOP San Diego, serving on the chapter's Developing Leaders Council, on the legislative affairs and civic engagement committees, and on the chapter board from 2019-2020. He previously participated in NAIOP SoCal and was a member of the chapter's Young Professionals Group Class of 2018.
Shearer gives his time and resources to many charitable endeavors. While at UC Berkeley's Hass School of Business, he volunteered with the Tenderloin Neighborhood Development Corporation, a nonprofit affordable housing developer and service provider, doing project management and underwriting. He is a member of the Mission Valley Planning Group in San Diego and part of its infrastructure financing study subcommittee, where he focuses on solving regional infrastructure funding gaps. Shearer is a member of the Building Industry Association's (BIA) YGen Board, has participated in its mentorship program, and serves on the BIA/YIMBY Committee.
In addition, he mentors real estate-track students from local universities; is active in the UC Berkeley and Haas School of Business alumni associations; and served as past president of the Orange County Haas Alumni Association. He also gives back to the military community through mentoring individuals making the transition from military to business.
NAIOP wanted to find out more about this talented leader and his career.
NAIOP: What has been a highlight of your career so far?
Shearer: The highlight of my career has been leading the Riverwalk project with Hines in San Diego. As I was transitioning out of the Navy into real estate, my ultimate goal was to develop infill projects in walkable neighborhoods. Never would I have envisioned that I would be building an entire walkable neighborhood. It is humbling to work on a project of this scale. To be able to provide homes for nearly 8,000 San Diegans, parks that will be enjoyed for generations, and habitat to restore the San Diego River will be a highlight of my career.
NAIOP: What is your favorite part of your job and why?
Shearer: The best part of my job is that I get to create something new. With Hines' Riverwalk project, for example, we entered into a development agreement with the city of San Diego – the first in decades. It will allow us to build a new light rail station and one of the largest parks in San Diego history. Ultimately, we will create a new transit-oriented village – another first for San Diego.
NAIOP: How has being a member of NAIOP helped your career?
Shearer: My participation in NAIOP SoCal's Young Professionals Group's 12-month, 70-hour course gave me access to real estate's brightest luminaries and standing within a prestigious group of YPG alumni. Without NAIOP's YPG program, I would not be at Hines. Now that I am managing a $3 billion project for the firm, I have been able to leverage many of the skills and connections I acquired through the YPG training.
Through my transition from the Navy and beyond, NAIOP events in the Bay Area, Southern California and San Diego helped me build my diverse network, understand the industry and become a well-rounded practitioner.
Currently, my work on the high-profile legislative affairs committee of NAIOP's San Diego chapter is increasing my interaction and prominence with my peers, elected officials and other executives at Hines. My committee members and I are key players in some of San Diego's most pressing policy issues, including housing production and affordable housing, split roll taxes, carbon emissions and more. To effectuate the change in mindset from one of suburban sprawl to one focused on infill and reuse, it is important to be a thought leader on legislative affairs and policy. NAIOP has provided me the platform to be involved in those conversations and ensure the real estate industry can continue to partner with policy makers to create positive social change.
NAIOP: What is one piece of practical advice you would give to Developing Leaders who are just starting out in their careers?
Shearer: Take risks. Most people, consciously or unconsciously, try to avoid losses as opposed to seeking gains. Knowing this, you should seek out risks, especially early in your career. Failure at a young age is a good thing; it builds character. Embrace it.
This is part of a series of profiles of NAIOP's 2020 Developing Leaders Award recipients, who have distinguished themselves through exceptional commitment and contributions to the industry. This prestigious award was presented at NAIOP's CRE.Converge Virtual 2020 conference. Watch this two-minute video to learn more about NAIOP's Developing Leaders program. Applications for the 2021 Developing Leaders Award are now open.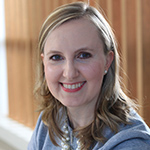 Marie Ruff is Communications Senior Manager at NAIOP.