As the son of a carpenter, Anthony Rinaldi, a recipient of NAIOP's 2020 Developing Leaders Award, said he grew up on job sites, leading to an enduring fascination with real estate. He became interested in the financial side of the business and pursued a Bachelor of Science degree in real estate finance at New York University before founding his own real estate investment firm when he was 26 years old.
As founder and managing principal of Saxum Real Estate, a leading boutique private equity real estate investment firm with $500 million in current real estate capitalizations, he oversees all aspects of the firm's operations, including investment strategy, acquisitions, capital raising, and the execution and management of the firm's portfolio.
The company's first fund focused on overlooked assets in transit-oriented, downtown markets – part of his vision of finding value where others could not see it, Rinaldi said. Under Rinaldi's leadership, Saxum is currently developing seven opportunity zone projects across the U.S. "This has put Saxum in the position to make a positive impact in communities by redeveloping in areas that need it most," Rinaldi said.
Saxum sponsors community events such as the Montclair Walnut Street Fair and Montclair's Jazz Festival. "Being a contributing member of the community is a large part of our investments in vibrant downtown markets," said Rinaldi.
He is an active member of NAIOP New Jersey, which he credits with helping to expand his network both locally and across the U.S.
NAIOP caught up with this forward-thinking leader to get his take on the past year and what he advises Developing Leaders who are early in their careers and eager to make their marks in the industry.
NAIOP: What do you think will be the biggest opportunity emerging from the past year?
Rinaldi: Early on, Saxum recognized the fragmented and undersupplied cold storage investment space. As a result, we've launched a vertically integrated platform that stands to serve the broader market by delivering institutional-quality cold storage investments. The COVID-19 crisis has highlighted the importance of the U.S. food supply chain and the growing demand for high quality freezer and cooler space. Since the pandemic began, Saxum has closed on three cold storage developments across the United States.
NAIOP: What is your favorite part of your job and why?
Rinaldi: The best part of my job, and this industry as a whole, is the ability to create things that can leave a lasting, tangible legacy on the communities in which we live, work and play. Real estate — especially good real estate — engages all of the senses, and to properly execute a project you must engage a wide variety of skill sets to bring forth a successful investment. Real estate at its core is one of the most influential aspects of a person's life; we are all constantly engaging with our surrounding environment, which is rooted in real estate. Having the ability to shape that environment is a blessing, and one we do not take lightly.
NAIOP: How has being a member of NAIOP helped your career?
Rinaldi: NAIOP has been a foundation for expanding my network both locally in New Jersey as well as across the nation, providing access to some the greatest minds and professionals in real estate. My career and the trajectory of my company has been forged through this network, and I am grateful for all the work NAIOP does for our industry.
NAIOP: What is one piece of practical advice you would give to Developing Leaders who are just starting out in their careers?
Rinaldi: Two things that have shaped my career and my success have been the understanding that all meetings are good and that there is never an ideal time to take a risk and chase your dreams. To elaborate on each point:
All meetings are good. With every meeting, you are making a connection, one that may bear fruit in the future, gaining a better understanding of someone else's perspective, learning and exploring new things and building a foundation for the future, one that you may have never anticipated.
There is never an ideal time to take a risk and chase your dreams. This may seem obvious, but it is often overlooked by many who toy with the idea of being an entrepreneur or taking substantial risks in their professional lives. From my experience, the longer you wait the harder it is to make that jump, and there is never an ideal time to do it. But I have always known that I never wanted to look back on life and regret the chances I didn't take and be proud of the ones I did.
This is part of a series of profiles of NAIOP's 2020 Developing Leaders Award recipients, who have distinguished themselves through exceptional commitment and contributions to the industry. This prestigious award was presented at NAIOP's CRE.Converge Virtual 2020 conference. Watch this two-minute video to learn more about NAIOP's Developing Leaders program. Applications for the 2021 Developing Leaders Award are now open.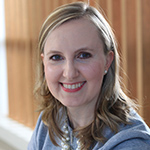 Marie Ruff is Communications Senior Manager at NAIOP.