Amazon's real estate strategies have stretched and been reshaped over the last decade as the company – like every retailer – strives to expand its reach and get closer to the consumer. The largest developer of industrial real estate in the world, the company has always leaned into the innovation and partnerships that fuel its corporate culture and deepen its impact.
At NAIOP's CRE.Converge conference this week in Seattle, Amazon Vice President for Worldwide Real Estate Daniel Mallory sat down for an in-depth chat in front of an audience of 1,500 commercial real estate leaders. Jean Kane, former CEO of Colliers International-Minneapolis St. Paul and the incoming chair of the NAIOP Research Foundation, asked Mallory about his perspectives on everything from the company's sustainability efforts to today's market challenges to future workforces and beyond.
Here are some key takeaways from their conversation:
Look for opportunities for transformation. In times of tremendous growth, it's important to focus on the future. Lean into your company's culture and see what changes can be made. And it's okay to take risks – don't focus on the potential for mistakes or missteps.
Amazon's goal of being "earth's most customer-centric company" is more than a tagline. The company is emerging from the pandemic with incredible shifts and a refined attention to these three key areas: 1. Cost to serve and the investment to ship packages, saving the customer money; 2. Speed to deliver packages quickly, delighting the customer; and 3. Defect elimination and avoiding duplication, earning trust.
Amazon is in 30 countries and handles billions of packages each year, so it's critical to focus on local needs and assessments while wisely considering global issues: inflation, sustainability, labor and more. The choice to either engage or sit stagnant is an easy one – the commercial real estate community must be at the forefront of contributing solutions to these issues.
The company's climate pledge of being carbon neutral by 2040 is a decade ahead of the goals established in the Paris Agreement international treaty on climate change. Today, Amazon has roughly 6,000 electric vehicles in its delivery fleet and aims to have 100,000 by 2030, along with the ability to run facilities on renewable energy. Sustainability plays a key role in the company's site selection, facility design and deal development, where Amazon is incorporating green deal language with the goal of innovating with its partners and sharing those successes to improve the next generation of development.
Getting closer to customers means thinking outside the box. There aren't any 60-acre lots ready for a traditional distribution facility close to major urban population centers, so being aspirational and adaptable to streamline delivery is critical; the company just completed a successful pharmaceutical delivery via drone in College Station, Texas. Looking at takeover and reuse possibilities is another method of maximizing delivery strategies, as well as incorporating a mix of uses into spaces.
The U.S. should be considered more than an exporter of ideas. So much growth can come from importing best practices from across the globe and learning from what others have found successful. Applying the best and brightest ideas no matter where they come from is critical to anyone's success.
Post-pandemic real estate requires being nimble. Nobody could have predicted how the pandemic would cripple systems previously taken for granted, like the supply chain. Now, anticipating and scenario planning to navigate the next significant event is a must. Placing confidence in how your company will adapt and thrive – and communicating that to your partners – is something every company should be doing so that no matter where the market goes, you've thought through how to manage the crisis.
Amazon views the development of its teams as an investment, particularly related to diversity, equity and inclusion goals that have long-term implications on its company culture and the communities it serves. A diversity of ideas and backgrounds is what's going to drive a company's effectiveness in any market. The company has a focus on implementing new technologies in the virtual realm, fintech and beyond to reach the next generation.


---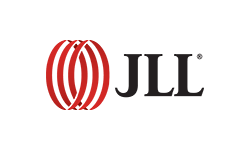 This post is brought to you by JLL, the social media and conference blog sponsor of NAIOP's CRE.Converge 2023. Learn more about JLL at www.us.jll.com or www.jll.ca.