With the increasing push to return to the office, employers and developers are tasked with sweetening the deal for current and future employees in the office and industrial markets. Makeshift home offices and kitchen counters became the new office during the pandemic, and working from home came with its own set of perks, such as no commute and more flexibility of time. Promises of increased collaboration with the return to in-person work aren't enough of an incentive. Now, workers across industries expect more when physically in the office.
At NAIOP's CRE.Converge conference this week, experts explored the range of amenities that developers can consider for emerging building plans or incorporate into already-existing office and industrial spaces. Dawn Riegel, principal, Ware Malcomb, moderated the panel featuring Michael Longo, senior vice president, CBRE; Stacey Mosley, director of research, Brandywine Realty Trust; and Jinger Tapia, vice president, design, Ware Malcomb.
"We have a labor and employment problem, not a work-from-home problem," Longo said, citing the ongoing actors' strike in Hollywood and the U.S.'s ongoing low employment rates. Until the issues of labor and employment are better addressed, Longo said, we should expect to see challenges in the return-to-office movement, but this does not mean developers can't try to make it as enticing as possible.
The relationship between attraction and retention, coupled with adopting a holistic view of amenities, was a common theme of the conversation. Developers should consider how well placed and well-positioned their buildings are in a given area, whether in a city or a suburb, and have a good understanding of a company's culture to know what its employees' needs are. Data has been collected on workers' preferred amenities – natural lighting, green spaces, access to parking – but sometimes that data isn't one-size-fits-all, Riegel said.
We're in the early days of a massive transition of ownership and assets, Longo believes, noting that capital is tough to access and developers have to be careful about positioning. Financial solvency is key. Building spaces need to be able to take on a new life if a new tenant were to arrive.
The aesthetics of office styles have rapidly changed over the past three years, Longo said. Office aesthetics have shifted from dropped ceilings and cubicle workspaces to open-concept spaces focused on collaboration. Developers and employers are still figuring out the latest iteration now that workers are returning to the office post-pandemic.
The low-hanging fruit, as Mosley says, is paying attention to trends in food and furniture. Food delivery service became normalized during the pandemic, and employees want a similar luxury in the office. Mosley offered up some suggestions: coffee carts that swap out employees' at-home drip coffee for a premium espresso or vending machines with fresh foods like salads. An office space's furniture should speak to how employees interact with each other and how they work, collaboratively or solo.
Later, Mosley mentioned enhancing the audiovisual experience for in-person employees to connect with others remotely and on conference calls, and Tapia noted the design transition from giant conference rooms to specially designated "Zoom rooms."
The panelists went on to discuss exterior amenities and how cities look at this issue. Mosley noted that exterior improvements can often become amenities for not only those coming into the office but for those in the surrounding community as well. It's important to leverage the immediate area around your building, whether that be local restaurants or dry cleaners.
Both Mosley and Tapia stressed the importance of integrating green spaces, such as parks, walking paths, patios and balconies, and sports courts.
In the past, "amenities were a landscape island in the middle of a parking lot with a concrete bench that the smokers could go to," Tapia joked. But now, workers of all kinds want connectivity between indoor and outdoor spaces.
"For the industrial user, it's about stepping away from the work and providing that connection to nature and a respite from what's going on in the facility… from a noise standpoint," Tapia said. As these outdoor amenities are added, requirements from the respective cities must also be taken into account. Tapia said she is taking cues from Mexico's contained industrial parks to naturally build sustainable initiatives into the design process. This also reflects attention to the evolution of environmental, social and governance (ESG) issues and the need – and demand – for more green spaces.
From the investment perspective, Longo, who specializes in properties across the West Coast, says his current strategy is to assess the land use first and then consider the design and cost because of all the changing attitudes from cities toward new developments and the current declining value of buildings.
Mosley, whose work is primarily based in Philadelphia, says the growing population in cities has contributed to the success of office and industrial outdoor spaces. She said these spaces should combine both the social and environmental factors. "Let the communities take ownership to catalyze the creativity of the space," Mosley said, highlighting live concerts, sporting events, and even weddings that have found a venue in these spaces.
---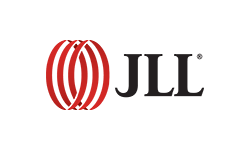 This post is brought to you by JLL, the social media and conference blog sponsor of NAIOP's CRE.Converge 2023. Learn more about JLL at www.us.jll.com or www.jll.ca.