High interest rates combined with persistent inflation have created the toughest commercial real estate financing environment since the Global Financial Crisis. Post-pandemic vacancies in commercial real estate and shifts to digital retail and work have added more considerations for prospective buyers and sellers.
At NAIOP's CRE.Converge conference this week, experts discussed the current landscape of commercial real estate loans throughout different sectors, such as multifamily, retail and office spaces. Edward Griffin, CEO, Griffin Partners, Inc., moderated a conversation with Keith Honig, senior managing director and head of commercial mortgage lending, Pacific Life Insurance Company; and Al Pontius, national director, office & industrial division, Marcus & Millichap. 
To help illustrate the data, the speakers came equipped with charts to visualize the data from the past few years and the trends across industries and companies.
In recent months, transaction volume across all commercial real estate segments has been very low after coming off some high years volume-wise in 2021 and 2022, Griffin said, motioning to a chart visualizing the drastic decrease from around $650 million in 2022 down to less $200 million in 2023. With this in mind, Griffin asked, how do lenders deal with the current lack of transactions and price discovery?
Transaction volume and price discovery go hand in hand – without the former, the latter is just a guess, said Honig. "We're still kind of navigating the waters between what the buyers want and what the sellers want, trying to bring those together," Honig said.
Honig has seen a lot of capital sitting on the sidelines because people are waiting for Chair of the Federal Reserve Jerome Powell to declare the end of raising rates and then to see some actual proof in reduced rates. Many anticipated that the market would improve in August and September, Honig said, but it didn't.
"What we have to do as an industry is get used to the pricing of debt as it exists today, and play ball that way," Pontius said. The perspective of continuing to anticipate dropping interest rates takes out a lot of players. Pontius said he wants buyers and sellers to get away from the idea that there's no price discovery, and instead consider alternatives, such as holding off as a buyer. More importantly, the office commercial real estate landscape should be discussed asset-by-asset rather than treated with a universal prescription.
Pontius warned the audience about paying too much mind to headlines over the hard statistics and falling too deep into the commercial real estate doom loop. The banking sector risk from commercial real estate has been overstated, he said, referring to visual data compiled by Marcus & Millichap that broke down the percentages of commercial banking loans in the commercial real estate market (24%) and further dissected the percentages that certain sectors receive. Offices receive under 15% of lending within that 24%, which makes office CRE loans just 3.6% of total bank lending.
Honig then addressed the level of liquidity in the office lending space. Lenders are cautious about office loans due to market volatility, Honig said, but may provide rescue capital if borrowers are transparent and put in required capital. He also touched on life insurance companies shifting into short-term lending for construction loans as the banks continue to hold off in that space.
The speakers went on to address the differences in urban and suburban commercial real estate and how it relates to company size and the return to office. Aside from the best of the best, such as One Vanderbilt in New York City, corporate towers are going to take the longest to bounce back.
According to data from McKinsey, corporate companies (25,000+ employees) saw employees coming in an average of 3.1 days a week versus smaller companies (2 to 49 employees), which saw employees coming in an average of 3.8 days a week. Pontius believes that the corporate companies return to office numbers are lower due to debates over amenities and whether work from home is actually productive.
"We're just trying to survive. We're competing for our spot in the world of capitalism," Pontius said, highlighting that smaller, regional companies aren't having the same return to office debates that corporate companies are encountering.
---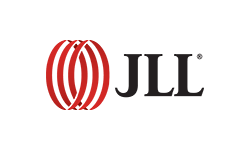 This post is brought to you by JLL, the social media and conference blog sponsor of NAIOP's CRE.Converge 2023. Learn more about JLL at www.us.jll.com or www.jll.ca.